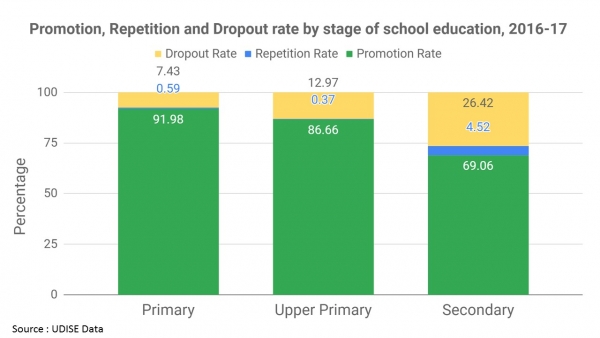 The education scenario in India has seen rapid progress over the last two decades in addressing the diverse challenges.
Enrollment in primary schools has increased to around 96% and school infrastructure has also improved, but there are still significant challenges in enrollment for vulnerable communities.

Enrollment numbers are low in vulnerable communities.

Enrollment numbers drop sharply in secondary school.

Retention beyond secondary school is a challenge in many places. 

Irregular attendance is another factor in many rural areas.  
Our projects focus on vulnerable communities who face challenges with universal coverage, out of school children, poor attendance and retention. Some of these communities live in deep rural areas and are primitive tribal groups , socially disadvantaged communities such as scheduled castes, linguistic minority communities at interstate borders and migrant populations like brick kiln workers. We work in these communities to ensure children are enrolled in school, attend school regularly and transition to higher grades while achieving desired learning competencies.
We partner with the government to ensure school infrastructure and services are available and functioning per specified norms.
We conduct door-to-door visits (and other awareness programs) to educate the community to enroll their children in school and participate in their education.
We build community ownership and participation by activating and strengthening the mothers committees and school monitoring committees. This involves training the parents about their roles and responsibilities in school monitoring committees.
We involve the children in the change, by activating child rights clubs and child parliaments in schools.
We support the teacher by training them on child friendly teaching methodologies and providing learning material for classrooms.
We divide our work into three distinct age groups that also map to the Government programs that support each of these groups.
   Preschools for children under 6 years, that are part of the Government's Anganwadi program
   Primary Schools for 6-14 years old children
   Upper Primary and High Schools for children above 14 years
The purpose of UN Sustainable Development (SDG) Goal 4 is ensure inclusive and equitable quality education and promote lifelong learning opportunities for all. ILP has aligned all its achievement/impact indicators with the the education-related targets and indicators of UN SDG Goal 4. 
In the last 10 years of our work across 8 states, our projects have created the following impact.
Access to Schools
174 – Government Preschools Opened/Upgraded through community empowerment
175 –  Government Schools Opened/Upgraded through community empowerment
3,000 – Schools with active community involvement in governance and infrastructure
Enrollment  & Retention
32,000 children enrolled into schools
10,000  children who had dropped out, re-enrolled into schools
300,000 children retained in schools
| State | District | Description | # of Villages | Beneficiary Count |
| --- | --- | --- | --- | --- |
| Andhra Pradesh | Chittoor | Access & Enrollment for children of Yenadi tribe | 100 | 12,567 |
| Andhra Pradesh | Kurnool | Enable education in a block with lowest literacy rate | 19 | 10,785 |
| Andhra Pradesh | Srikakulam | Preschool & School readiness in two blocks | 23 | 6,437 |
| Andhra Pradesh | Vizianagaram | Activity based learning in primary schools | 18 | 1,287 |
| Bihar | Jahanabad | Bring out-of-school children back to school | 40 | 16,899 |
| Bihar | Nalanda | Education for all with community support | 41 | 21,140 |
| Bihar | Patna | Education for Mushar community | 20 | 2,086 |
| Jharkhand | Giridh | Strengthening schools in Mica mining areas | 21 | 4,843 |
| Jharkhand | Lohardaga | Community empowerment for education | 30 | 14,652 |
| Jharkhand | Saraikela-Kharaswan | Bring children back to school and improve learning | 45 | 16,781 |
| Jharkhand | West Singbhum | Catalyze change through children's education | 60 | 7,883 |
| Karnataka | Bijapur | Engage community for children's education | 36 | 17,445 |
| Karnataka | Chikkabalapura | Right to Education Task force in Karnataka | 45 | 8,081 |
| Karnataka | Davangere | Strengthen schools via community participation | 165 | 40,946 |
| Karnataka | Kalbaurgi | Early childhood education program | 1274 | 78,965 |
| Odisha | Dhenkenal | Access and Enrollment for tribal children | 109 | 16,395 |
| Odisha | Keonjhar | Ensuring schooling for children of primitive tribes | 57 | 9,004 |
| Odisha | Keonjhar | Bring tribal children back to school | 148 | 17,215 |
| Tamil Nadu | Cuddalore | Ensure development, protection and education of girl children | 361 | 13,514 |
| Tamil Nadu | Dindigul | Enrollment and improving learning outcomes | 1 | 1,203 |
| Tamil Nadu | Krishnagiri | Enrollment & Quality education for children of linguistic minorities | 64 | 16,221 |
| Tamil Nadu | Thiruvannamalai | Ensure quality education for tribal children | 72 | 11,654 |
| Tamil Nadu | Thiruvallur | Education for children of brick kiln workers | 331 | 24,979 |
| Telangana | Adilabad | Strengthen child rights to eradicate child labor | 40 | 4,868 |
| Telangana | Wanaparthy | Education for children of Lambada tribes | 48 | 17,734 |