Starting January for the past 20 years or so, troops of people block out their Saturday mornings for runs and walks. One would think they are just like many others who made New Year resolutions to exercise regularly and often more. This is a very special group and the commitment does not last a few weeks and fade away into the dusk!
The Saturday morning runs start in earnest and soon a second and third day in a week are added and then a whole bunch of people join this bandwagon for regular runs and walks. The pavement and trails are pounded, sweat is wiped off the brow, shirts are soaking wet.
The activities around the training go into a major frenzy by April and culminating in the first weekend in May. Who are these people? What are they doing year after year? What motivates them to do this?
The group starting the preparations in January is a group of dedicated ILP supporters. They are preparing for The Golden Gate Relay that is held in the first weekend of May every year. Many of the participants return year after year and have done so for many years. Every year they bring more people to join them in this endeavor – friends, family, co-workers, etc. It is not just the high performance athletes that take up this challenge.
Many of the runners are casual runners and then train hard to participate in the relay. Some of the walkers have never walked more than a couple of miles, but with practice and coaching they too are able to handle the course set for them. These are the people that believe in the ILP cause and strive to make a difference in education in India – one step at a time. Their only motivation is to support ILP in its mission.
The Relay is organized by Organs R Us – an organization that promotes the need for organ donors. Through walking and running, transplant recipients, candidates, organ donors, donor family members and others have generated many millions of dollars for publicity promoting organ donation. Through participation in athletic events selected for maximum publicity and fun, this group showcases their fitness proving that organ transplantation saves lives.
Thanks to Organs R Us, ILP has been able to field teams and participate in this amazing event every year raising awareness for organ donation and supporting education in India.­­­­
The Relay involves teams running a 190 mile course from Napa to Santa Cruz or walking 130 miles from Petaluma to Santa Cruz. Each team is made up of 12 participants. The participants walk 2 legs or run 3 legs: each leg is approximately 6 miles with varying degrees of difficulty allowing participants of various degrees of fitness levels to participate comfortably.
The race route meanders through 36 counties in the San Francisco Bay Area through the most scenic of routes: through redwood forests, along stretches of the Pacific ocean, via the calmest of residential neighborhoods, by a cemetery in the dead of night, on dark lonely roads and highways and busy streets, up a quarry in the hot afternoon sun and through narrow shaded bike paths.
The crown jewel of this race is crossing the Golden Gate Bridge.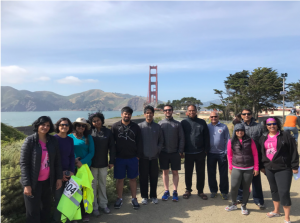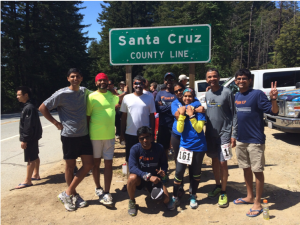 The Relay is one of ILP's major fundraisers of the year. We strive to raise between $220,000 and $250,000 every year. All the participants are committed to raising at least a minimum for the relay. As the participants reach out to a wide audience, more and more people become aware of ILP's mission, goals and accomplishments in the field of education in India. Each year ILP fields between 15 and 20 teams or between 180 to 240 participants.
The runners and walkers start their training sometime in January and continue till the last week of April. It is a huge time commitment to block out weekend mornings in order to train. ILP has a focused training program for running teams that concentrates on good form, strength and speed – all lead by a dedicated volunteer. Each training week focuses on a different element to ensure the runner can run assigned legs in best form without injuring themselves. Walkers are trained to walk different terrains at different times of the day to get them acclimatized to race day conditions.
The participants not only are committed to training but they are also committed to raising funds for ILP. Some of the people who sign up would prefer to just run or walk, but they completely step out of their comfort zones to ask for and raise money. For many asking for money is extremely hard and uncomfortable and something they would rather not do. Most participants put aside their reservations and take that step and ask for donations – all for a great cause.
The Relay is a massive undertaking that involves managing logistics and the course set up. Organizers need to be able to handle about 200 teams each with 12 members. Runners and Walkers are not the only ones spending countless hours preparing for the relay. ILP's volunteers spend a lot of time working with Organs R Us to make the Relay, an unforgettable experience for the many teams that ILP fields. Work on the relay starts way before the participants start their training in January. ILP volunteers start their activities in November to set up registration forms, fliers, automating fundraising page and PayPal links, and discussions with Organs R Us.
The team of unseen volunteers spend a lot of time from November through June handling the ILP web site, interfacing with PayPal, coordinating van rentals for the team, setting up the pre-relay lunch, ensuring each van is stocked with essentials for the relay duration etc . ILP Support staff are available through the entire race weekend providing food along the way, accompanying walkers through their legs if needed and checking in on various teams at various locations to provide any additional support. Volunteers also support the participants by answering a multitude of questions regarding fundraising, relay weekend logistics, company matching funds management.
The backend heroes support the participants in such a way that they only have to concentrate on fundraising and actually running or walking.
The relay weekend is one of sheer joy, focus, patience, fatigue, energy, sweat all rolled up together in the pursuit of completing the 130/190 mile relay in under 30 hours. Relay playbook, food, water and bags are packed and the vans are decorated. Teams leave their homes before the crack of dawn to get to the starting point, The relay is flagged off at 8 am on the first Saturday in May in Petaluma or Napa. Team members take turns walking or running continuously from the start till they cross the finish line in Santa Cruz. Exchange of the baton between team members is symbolic of organ donation.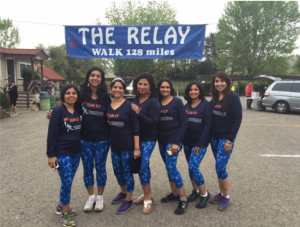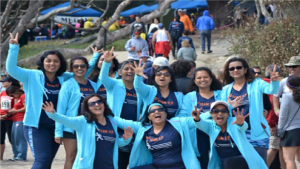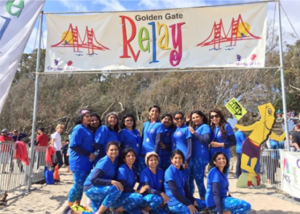 The months of training and preparation culminate in the team crossing the finish line in Santa Cruz. Teams walk together crossing the finish line – one step at a time with the hope and dream of an educated India – one child at a time.