Why is Career Guidance and Counseling Important?
The Annual Status of Education Report 2017 'Beyond Basics', popularly known as ASER focused on the preparedness of youth in the age group of 14-18, with respect to their ability to lead productive lives as adults. About 1 in every 10 Indians is between the ages of 14 and 18, which amounts to about 125 million individuals. Many have completed elementary school, but lack foundational skills. India will be the youngest country in the world in the 21st century. This could be both a boon and bane. Failure to sufficiently educate and skill the young population may lead to a demographic disaster.  However, soaring for the stars is no bar for a skilled and educated young population.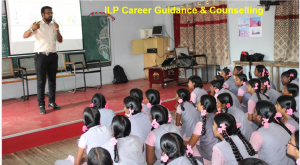 ILP has taken this challenge head on to offer Career Guidance and Counseling, as a module in the Multi Dimensional Learning Space (MDLS) initiative. The objective of this program is to facilitate the adolescent students from Class 9 to 12 to make informed choices so that they can design their career paths. As of now, ILP has reached out to 150,000 students in India through many career guidance sessions. There is a plethora of information and choices available for students who graduate from Class 10 or 12. Unless these students are aware of available careers and a path to pursue them, as ASER 2017 points out, India may lose the human capital advantage.
In order to equip students with information, ILP designed a career guidance chart as well as career planners. These are available in multiple languages and are curated for specific states.  
Career Guidance Chart: ILP developed a comprehensive Career Guidance Chart that lists the several education and career options available after 10th grade. In this chart,  students can see the opportunities, qualifications, entrance exams, course duration, fees and other information.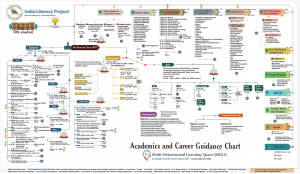 Career Planner:  Comprehensive information about different careers have been collated into a booklet. It contains descriptions of each career, educational requirements and eligibility, job opportunities, industry growth and career prospects. This planner is available in English, Hindi, Kannada, Odiya, Tamil, Telugu and Urdu.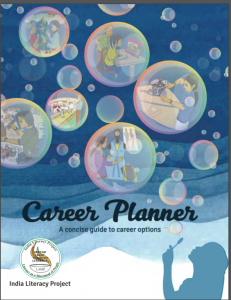 However, one of the most important aspects of this program is to provide Life Skills Training. According to the World Health Organizaton (WHO), "Life skills are abilities for adaptive and positive behavior that enable individuals to deal effectively with the demands and challenges of everyday life". There are 10 core skills that promote the health and the well being of children and adolescents. They are Decision Making, Problem Solving, Creative Thinking, Critical Thinking, Effective Communications, interpersonal Relationship Skills, Self-awareness, Empathy, Coping with Emotions and Coping with Stress.
To learn more, please visit https://csm.ilpnet.org/